Occupational wellness directly affects employee well-being and their mental and physical health, which, in turn, will affect the productivity and profitability of the company. Our Workplace Health Promotion (WHP) program tackles obstacles a company faces with the (mental and physical) health of employees and how it affects productivity and rapport. It also looks to reduce work-related injury and covers the importance of a healthy active lifestyle and how it contributes to a work-life balance.
The goal of this WHP programme is to improve your company's working environment, helping reduce employee turnover and ultimately drive profitability.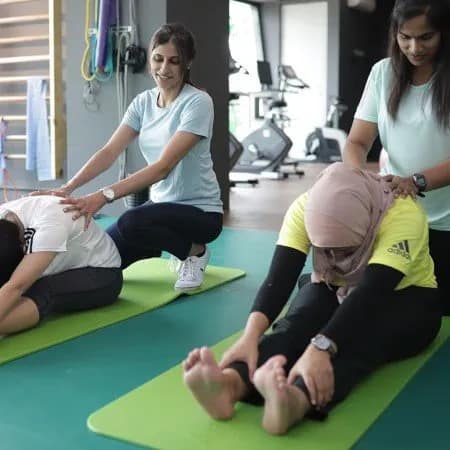 Ergonomics
Ergonomics is the study of understanding how people interact and work in an environment. In our case, we study and understand how people interact with their working environment. All working environments are different physically, and all working environments are perceived differently by each individual.
As part of our WHP programme, we assess and analyse the Ergonomics of your employees' and managers' workspaces. We know that:
Proper ergonomics prevent common work-related injury
Ergonomics isn't like the quadratic formula, one formula doesn't fit all
Depending on the nature of your job, your height/build, work attire, the ergonomics can change
Workplace improvement can significantly benefit employees and employers
Our mission is to improve an employee's performance by optimizing the interaction between them and their workspace, creating an environment boosting employee well-being and in which they feel satisfied and motivated to work as productively as they can.
Workplace Assessment
The second part of the WHP analyses the workplace environment as a whole to understand employee engagement and satisfaction as well as how best to improve employee well-being and, ultimately, happiness. This covers a wide range of areas to focus on, including:
Office and Leisure areas and furniture
Requested Attire and associated comfort
Nature of daily tasks/activities
General working environment and space
Discussions and surveys with employees and managers
Our assessment procedure will then consist of both pre- and post- survey (clearly tailored to the nature of the company and the employee roles) and result in a comparison of the surveys conducted to demonstrate improvement over a period of time.
Ultimately, our aim is to not only provide recommendations for improvement of the workplace but also highlight to employees how to adapt to a given work environment, ensuring long-term satisfaction and company success.
Learn more about Terramed
For more information, or to engage Terramed for our Workplace Health Promotion programme, please contact our Business representatives through Email, Whatsapp or through our website.
Call Us
Mobile: +60 12 771 9763
Office:   +60 3 5031 5946
Our Location
Lot 20 & 21, Level Mezzanine, UOA Business Park, No. 1 Jalan Pengaturcara U1/51a, Seksyen U1, 40150 Shah Alam, Selangor