Terramed Treatments
At Terramed, our approach to your recovery and treatment doesn't stop at healing the injury but rather focuses on returning your body to its previous fitness and health.
Terramed
Our treatments go beyond the prevention of injuries in the future. Through our Physiotherapy treatment, Sports Therapy and S&C expertise and programmes, you can journey through the phases of:
Our aim is to ensure that your rehabilitation has a long-term effect on any injuries and also your body as a whole, while reducing your risk of re-injury going forward. Below we have outlined the steps we will take during your rehabilitation programme, we look forwarding to joining you on this Treatment Journey.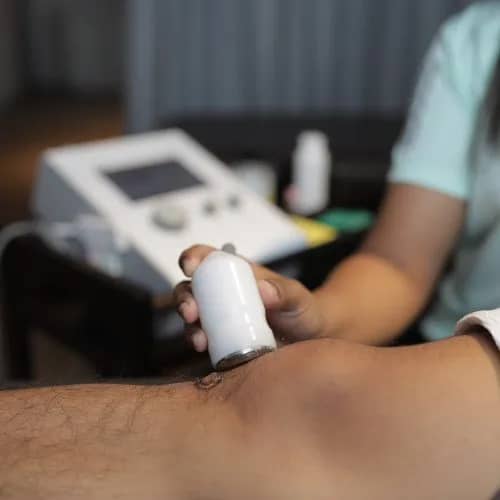 Assessment
Before beginning your treatment plan with us, you will first be given an Initial Assessment by one of our physiotherapists, during which:
Your chief complaint and point of injury will be collected
A Physical and Pain assessment will be taken through observation, palpation and examination of mobility, muscle girth/power, accessory movement, etc.
If appropriate, Isometric Testing will be included to inform analysis and goal-setting
Diagnosis will be done according to the results from the Assessments and Testing and based on your subjective feedback
Following this, we will work with you to determine short-term and long-term goals for your rehabilitation based on which your physiotherapy treatment and therapy plan will be developed. We are now ready to begin your recovery!

Physiotherapy
The main physiotherapy strategy in completing this road to recovery is focused on the medical aspects of the injury/impairment (symptom management) and also of course rehabilitating the root cause of the injury.
Sports Therapy
The goal of sports therapy is to rehabilitate you as an injured individual and return you to sport in the condition you were prior to the injury or an even fitter condition.
Strengh & Conditioning
As a final stage of your journey, we want to ensure that your recovery is long-lasting and, just as importantly, your risk of re-injury is minimised.
Other Treatments
Terramed also offers Treatments such as Sport-Massages, Geriatrics & Prengnancy (Pre- & Postnatal) Fitness. Reach out to us to find the Treatment that fits you best! 
​Make You Pain Free at Terramed
The Physiotherapy and Sport Rehabilitation Centre You Need.
Call Us
Mobile: +60 12 771 9763
Office:   +60 3 5031 5946
Our Location
Lot 20 & 21, Level Mezzanine, UOA Business Park, No. 1 Jalan Pengaturcara U1/51a, Seksyen U1, 40150 Shah Alam, Selangor
Make You Pain Free at Terramed
Your Physiotherapy and Sport Rehabilitation Centre You Ever Need.