All Treatments
Next to Physiotherapy and Sports Therapy our experts can focus on multiple areas and are happy to assist you.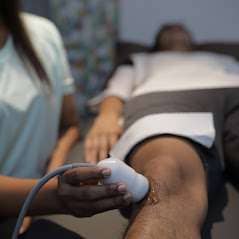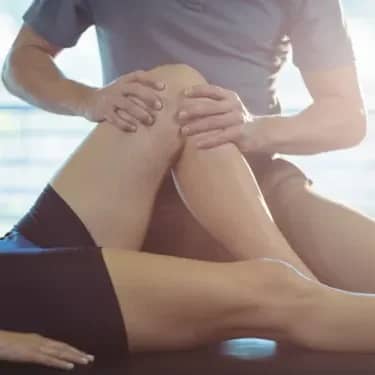 Sports Massage
Sports Massage
The body needs to rest to enable it to recover from the fatigue which results from hard training and also develop the resilience necessary to prevent the stage where the body is no longer able to fully recover between sessions. This can have a detrimental effect on performance which will ultimately decline.
Through Sports Massage, we help your body improve its recovery speed/time, prevent muscular and tendinous injuries, reduce training strain and support the rehabilitation of both acute and chronic injuries so that affected areas do not continue to provide pain. The beauty of a sports massage is also that it can benefit pretty much anyone, from manual labourers to desk workers and recreational sports enthusiasts to high-performance athletes.
At Terramed Physio & Rehab, all of our therapists have attended Sports Massage training in addition to their physiotherapy treatment and sports science backgrounds, and each type of sports massage and technique will be utilized depending on the needs of an individual.
Geriatrics
Geriatric
Geriatric care management is the process of planning and coordinating care for the elderly with physical impairment(s) to meet their long-term care needs, improve their quality of life and maintain their independence for as long as possible.
As we age, we are more prone to falling, muscle elasticity and extensibility decrease, sarcopenia occurs, the reaction slows and bones become brittle. Our geriatric care focuses on fall prevention. When an older person, falls, the severity of the injury is higher, and the rate of recovery is slower. Our physiotherapists work to prevent the rate of muscle atrophy, or at the very least, maintain muscle mass and strength to lower the risk of falling and lower the severity of injury in the event of a fall.
Through our Balance Tracking System, we draw out a program for the patient and during the first assessment identify the risk of falling. The program for the patient will emphasize the weak areas and exercise is prescribed accordingly. Continuous tests are repeated after several weeks to demonstrate improvement and evaluate patients' progress.
Pregnancy Fitness
Pregnancy (Pre- and Post-Natal) Fitness
As part of our wide service range, we also provide therapy and exercise programmes for pregnant women both during pregnancy and after childbirth. Our pre- and post-natal exercises are designed to help give guidance on proper posture & positioning, release muscle tension and joint stiffness as well as prescribe strengthening exercises and stretches in a safe manner for both child and mother.
With our physiotherapy treatment expertise, we look to bring the following benefits through our pregnancy and postpartum programs:
Through exercises deemed safe for the individual pregnant woman, we build strength in muscles weakened during pregnancy, limit weight gain for easier post-natal recovery, and improve cardiovascular fitness
Promote increased body awareness and a positive body image via posture reinforcement and proprioception training, and instil the mentality and discipline in exercise that will benefit the birthing process
Reduce "recovery time" after birth. The general rule is 9 months up, 9 months down; through training and specific exercises we can help reduce the time back to normal
We know that exercise during the pregnancy also improves the health of the baby and ultimately it is our most important aim to ensure a healthy mother and baby for their lives.
Walk in Appointments Available Daily
Book an Appointment and consult with one of our Physiotherapists. 
Call Us
Mobile: +60 12 771 9763
Office:   +60 3 5031 5946
Our Location
Lot 20 & 21, Level Mezzanine, UOA Business Park, No. 1 Jalan Pengaturcara U1/51a, Seksyen U1, 40150 Shah Alam, Selangor