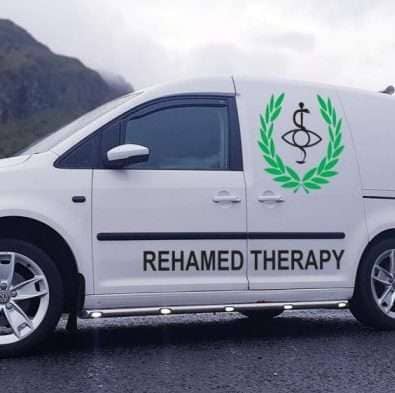 We are breaking new ground to offer our world-class team for physio at home! Our Physio-on-the-Road service provides patients the opportunity to enjoy physiotherapy and rehabilitation in the comfort of their own home, making treatment more accessible.
For those patients who may not be able to travel due to intense surgical interventions, inaccessibility of transport or simply are not comfortable traveling during these times, Terramed's therapists are able to travel to provide physio at home (and, of course, sports rehabilitation as well) to accelerate their recovery.
Physio on the Road
Physiotherapy is the treatment of abnormal pain and issues like injuries, physical disability, non-communicable diseases and other physical conditions. Physiotherapists are trained and licensed to recover an individual's physical and physiological function in order to improve the quality of their daily lives. They do their best work in the acute phases of injuries whereby the pain is most excruciating, however can also provide long-lasting relief for chronic pains and conditions.
The main physiotherapy strategy in completing this road to recovery is focused on the medical aspects of the injury/impairment (symptom management) and also of course rehabilitating the root cause of the injury. Further, a key point that we address in returning you to activities of daily life is ensuring that you are knowledgeable on the injury/impairment and providing guidance to help self-manage and continue improvement of the condition.
Active and Sports Therapy
In sports therapy and active rehabilitation, both physiotherapy and sports science (and sports medicine) are utilized throughout the recovery process. They both play active roles in returning the patient to daily life and, especially in sports science, return-to-sports. Sports therapy is typically applied following significant injury and/or surgery.
Sports therapy is initially based on physiotherapy, which is typically more passive, using electrotherapy modalities (such as TENS, IFS, etc.) and manual therapies targeting soft tissue manipulation and joint mobilization. As sports therapy becomes more progressed, the therapists will focus on more active and exercise-based therapy helping to restore balance and strength to the injured body part. This is vital as the basis for returning to daily and sporting activities.
With the combination of physio at home and sports science, we are able to optimize rehabilitation and recovery.
Learn more about
Terramed
For more information, or to engage Terramed Physio & Rehab for our Workplace Health Promotion programme, please contact our Business representatives through Email, Whatsapp or through our website.
Call Us
Mobile: +60 12 771 9763
Office:   +60 3 5031 5946
Our Location
Lot 20 & 21, Level Mezzanine, UOA Business Park, No. 1 Jalan Pengaturcara U1/51a, Seksyen U1, 40150 Shah Alam, Selangor